We have a vision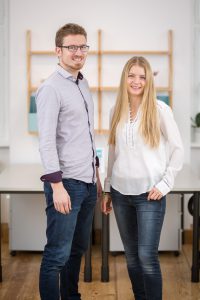 We are two online marketing specialists and project managers from Vienna. We live our dream of being self-determined and location independent. It has not always been easy however to find the right place to work on our projects in a quiet yet inspiring environment.
Of course, we couldn't resist when we got the opportunity to create our own workspace, that was furnished and designed according to our personal needs and ideas.
We thought long and hard about it. We planned, researched, tested, and invested a lot of time in the creation of our workspace. It is our vision to create Vienna's cosiest and most inspiring co-working space, and at the same time a shared green oasis in the hectic city life.
In a peaceful, creative and stimulating environment with modern infrastructure and ergonomic workplaces we want to network, connect, inspire and ultimately create added value together.
If you share the same values and visions, we would be delighted to welcome you to our community!
A selection of our projects
---