What´s in it?
We offer you much more than just a workplace! In our co-working space in the heart of Vienna, we provide you with everything you need to start and support a successful company as well as the well-deserved relaxation in between.
Your table, your station. We offer fixed and flexible workstations in various packaged options. All fixed workstations (tabletop 160×70 cm or 140×80 cm with cable duct) have a lockable wheel box, a personal storage area/shelf, a table lamp, a waste bin, and an ergonomic, 3-way adjustable office swivel chair. The flexible workstations measure 120×60 cm and are also equipped with an ergonomic, 3-way adjustable office swivel chair. They are to be left neat and tidy after your work is finished. You can find more information about our offer and prices here.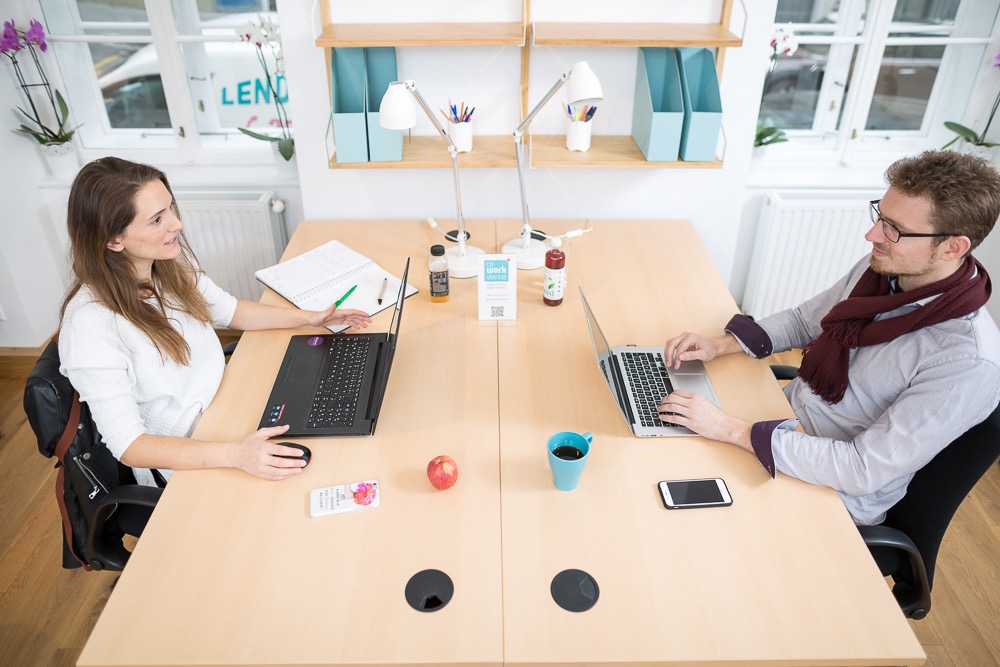 Caffeine kick & snacks. Filter coffee and tea are available to all co-workers for free! In addition, we offer basics such as milk, sugar, oil and vinegar. For the extra kick, each kitchen is equipped with a Nespresso machine.
You prefer to cook your own food? No problem, we have two fully equipped kitchens available for you. On the ground floor you will find a kettle and coffee machine, a microwave, dishwasher, and a refrigerator. On the upper floor, there is also an induction hob and an oven. Of course, both kitchens are also equipped with all the utensils you need for a relaxed cooking session. Pots, pans, can openers and whisks will be available for you to use!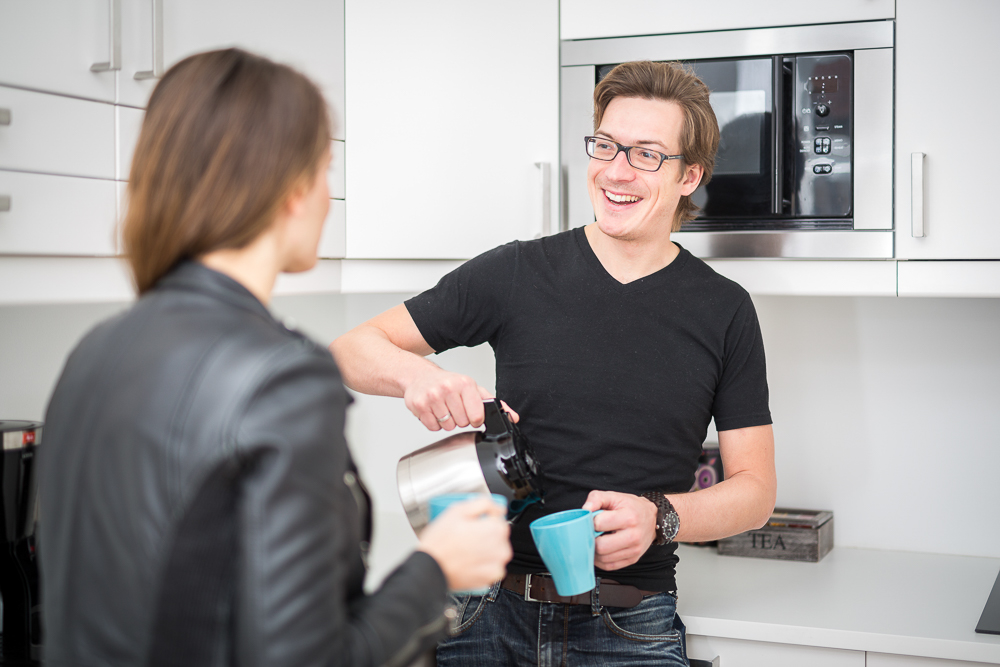 Breathe deeply in the green. Our green inner courtyard with its comfortable benches and seating invites you to slow down and relax. Its secluded location makes you almost forget that you are in the middle of the big city! And if you want to work outside, that's no problem either, because the courtyard is also equipped with sockets and WLAN. For sun lovers we offer 55 square metres of roof terrace exclusively for our co-workers!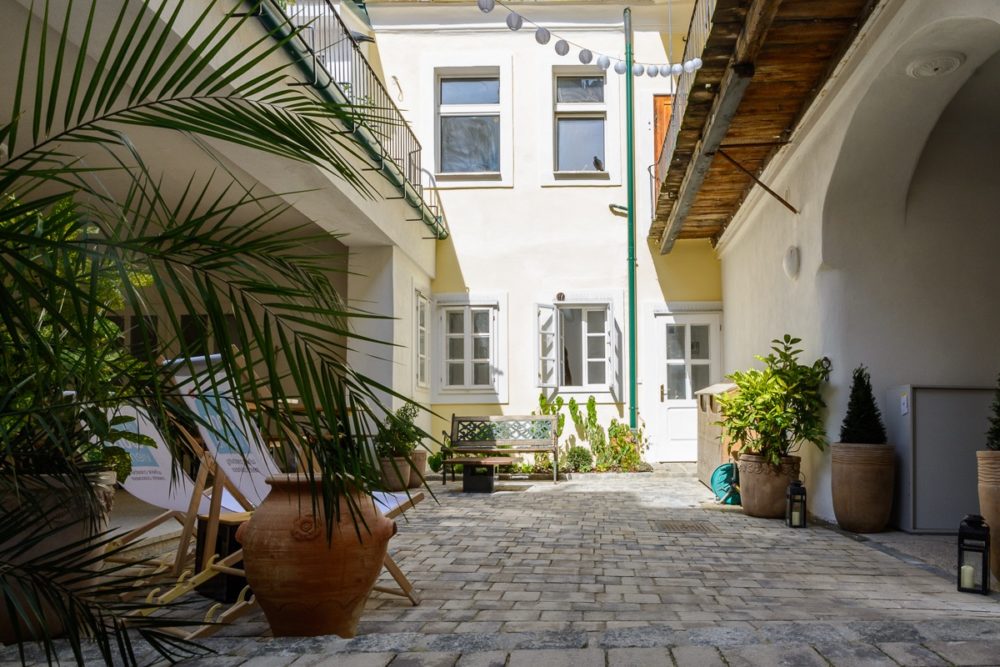 Meet & Greet. Would you like to welcome your customers in a representative environment? No problem, we provide you with two fully equipped meeting rooms. The use of the small meeting room for 2-3 people is included in all packages.  It is also suitable for conference calls and Skype calls. The large meeting room with access to the terrace is suitable for 8-10 people and is equipped with everything you need for a productive meeting. It has Wi-Fi, a powerful beamer, a mobile whiteboard with moderation material and a flipchart. The use of the large meeting room is included in the fix packages. The flex packages include a limited amount of monthly hours. Book space now ->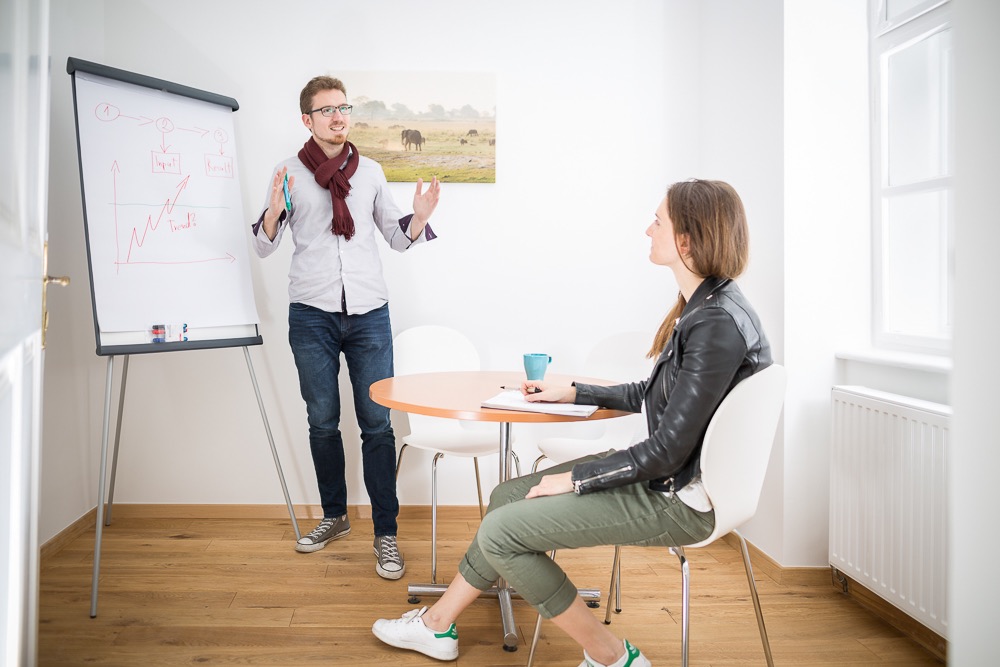 Stay connected! We are aware that fast and reliable internet is essential for a successful business. That's why we have powerful internet from Magenta with 300 Mbit download and 30 Mbit upload speed. Our network is supplemented by an LTE backup line with 50 Mbit download/ 10 Mbit upload, so that a total connectivity failure is virtually impossible!
Print/Scan/Copy. All packages entitle you to use our emission-free multifunction device (print, scan, copy in A4 and A3) as part of a "fair use" policy. The device is integrated into our network and can be controlled via Wi-Fi from any room and floor after installing the driver. Upstairs, there is an additional B/W printer.
Cleaning.The weekly cleaning of the premises and workplaces is of course included in the monthly rent.
Operating and ancillary costs. The monthly rent also includes operating costs, as well as all ancillary costs such as electricity, gas and heating. So, you always have an exact idea of your total costs!
The virtual office. You don't need a workstation, just a company address? For only 75 € per month you get your own mailbox with 24/7 access, the right to register your company at our address, a representative company sign at the entrance (excl. production € 25,- net) and on request a notification by e-mail via the inbox! If you are on holiday or not available, we will empty your mailbox and of course keep your mail for you!
User agreement & general terms and conditions. We leave our workstations based on a transparent user agreement and our AGBs. With us there are no hidden costs or fees and no minimum contract duration. The contract can be cancelled or changed monthly (subject to availability).